Services Delivery form

infrastructure solutions
Solve complex and diverse IT infrastructure challenges
The role of IT in companies has become even more important. Among them, IT infrastructure supports business infrastructure It plays an important role not only to improve the performance of the whole system. Furthermore, it is required to respond to various environmental changes such as response to ever-increasing information content, green IT response, internal control, management of personal information, etc. The task to be solved by IT infrastructure is complicated, It spans a wide range.

At the same time, system reconstruction, integration and consolidation for TCO reduction, Services Providing is an important issue.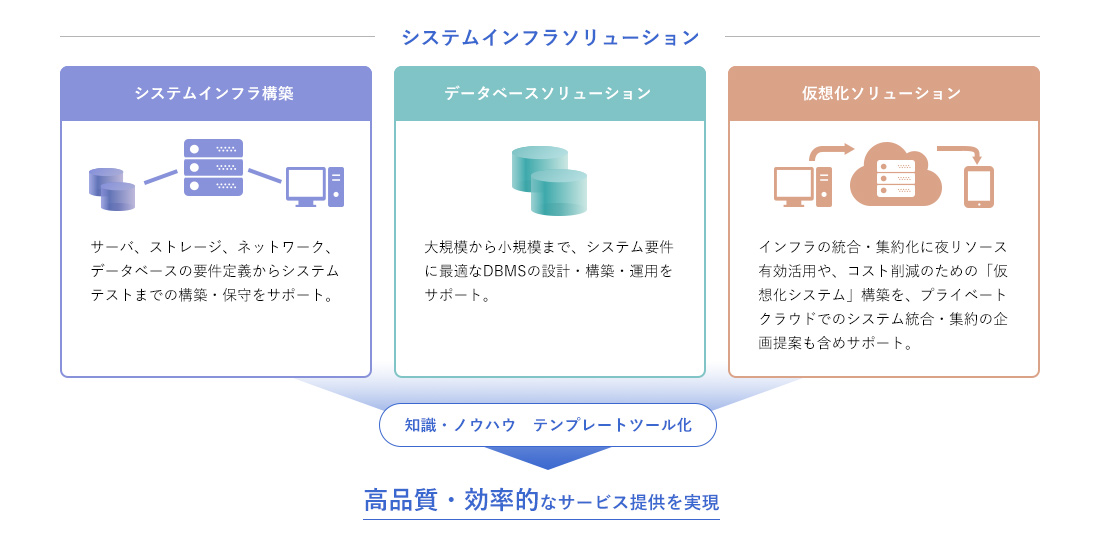 CUBE SYSTEM Has been involved in infrastructure construction, DB construction and operation for large-scale systems and mission critical systems for many years, solutions We have expanded. With the accumulated knowledge know-how Are templatized and tooled and are high quality and efficient Services We will be happy to serve you.
Installation result

· Operation based on ITILL [ finance Work
· Mission-critical system · Information system integrated operation management system 【 finance Work
· Construction of charge system [ telecommunication Work
· Contract management system construction 【 telecommunication Work
· Performance test · Evaluation 【 telecommunication Work
· database Environmental management【 telecommunication Work
· infrastructure Design 【Manufacturing】
· Production control system 【Government agency】
· System for Government Offices 【Government Offices】
CASE STUDY

Construction of system infrastructure for mobile carriers